The Lincoln Depot
Restoring the Lincoln Depot was a dream long held by many Lincoln Society members. It was always hoped that some day the building could be restored and turned into a true historical site. With hard work and dedication to this cause, the City of Peekskill was able to make the dream a reality.
For decades the structure and property were privately owned. The property housed an HVAC supply business, and the depot building was a warehouse and workshop. Although it was never properly cared for the building survived the century-long wait for its new life. Once the restoration began many positive surprises were discovered. Most of the doors and wood architectural details were original. The brick, although covered with graffiti and dirt, was original and in good shape. Even the original galvanized tin roof was intact under the layers of asphalt roofing! Having original components of the depot building made the job of replicating missing parts much easier. Originals could be copied exactly. The new tin roof was replicated to match the original tin shingles and the color scheme was discovered and matched as closely as possible. Now the Lincoln Society is able to conduct their annual commemoration of the Lincoln stop in Peekskill at the exact location which it occurred nearly a hundred and fifty years ago.
Jan Hird Pokorny Associates was hired to conduct the restoration efforts and a local company, Wood Designe was hired to do the restoration construction work. The results are amazing and can be seen clearly in the photos below.
Visit the Lincoln Depot Museum Website
Photos before restoration (click on photo for larger view):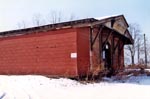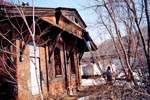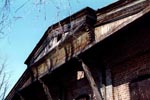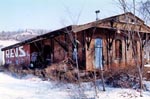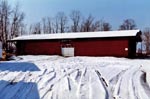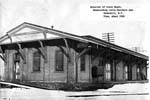 Photos after restoration (click on photo for larger view):